On April 27, 2012, the first anniversary of the superstorm, I joined Bo Jackson for part of his 6-day, 300-mile ride across Alabama. Recently named "The Greatest Athlete of All Time" by ESPN, Jackson wanted to help his home state recover from the storm. So he created Bo Bikes Bama, a charity ride that raises money for disaster relief and for the construction of tornado shelters in the state that leads the nation in tornado deaths.
It was the most meaningful day I have ever spent on a bike. The story I wrote about it for Bicycling magazine is one of my favorite essays, too. Besides drafting on Lance Armstrong's wheel, and riding up a hill with my childhood heroine, Olympic medalist Picabo Street, I saw how tragedy brings people together across the great divides of race, class, and SEC football.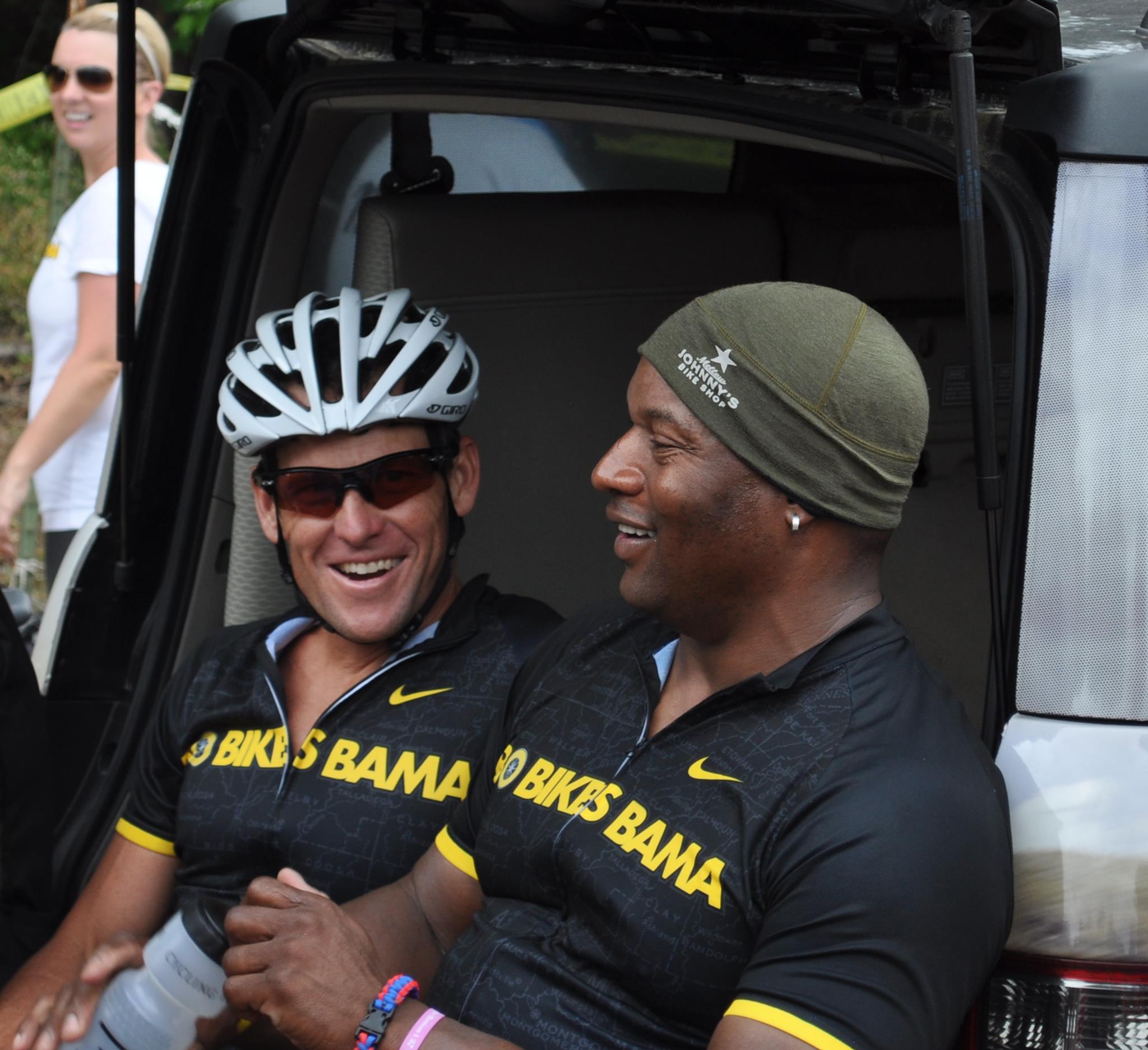 Photos: Glenn Kasin, Wes Frazer, and Mary Lou Davis
This ride represents the crossroads of my two passions: writing and riding. It is a ride where everyone is welcome. See that guy in the photo with me and Bo Jackson? That's the publisher of Southern Living, who did the 60-mile ride on his mountain bike, with baggies, flat pedals, and no training. Last year, I rode the 20-mile version with my 6-year-old son in the bike trailer. He passed out Easter eggs. One of my favorite returning riders is "Jersey Dan," who drives down from New Jersey every year to pedal an adaptive bike with his arms. He's just as much of a celebrity at this ride as MLB superstar Ken Griffey Jr. and Olympian Al Joyner.
As I went on book tour, I also went on bike tour, scheduling group rides in most of the cities where I had signings. Why? Because I love to ride my bike and I want to meet riders in every city I visit. And also because I want to spread the word about Bo Bikes Bama, not only because it helps my state, but because it's a ride like no other. It's not a race. And it's not a Grand Fondo, either. It's a ride where everyday riders like me can ride shoulder-to-shoulder with some of the best athletes in the world—who struggle up hills just like the rest of us.
I hope you'll consider joining me at the fourth annual Bo Bikes Bama ride on May 2 in Auburn, Alabama. Join me on a book tour ride to find out more. And sign up for Bo Bikes Bama.